Aurion is proud distributor of the products of Electron Microscopy Sciences and Diatome.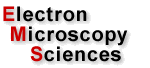 Electron Microscopy Sciences offers a range of high quality chemicals, supplies, accessories and equipment for Electron Microscopy, Light Microscopy, Histology, Cell Biology, Neuroscience and all biological related research fields. Information on pricing and ordering on this page.
Diatome is world leader in diamond knives and innovator on diamond knife technology. Information on pricing and ordering of the Diatome products on this page.